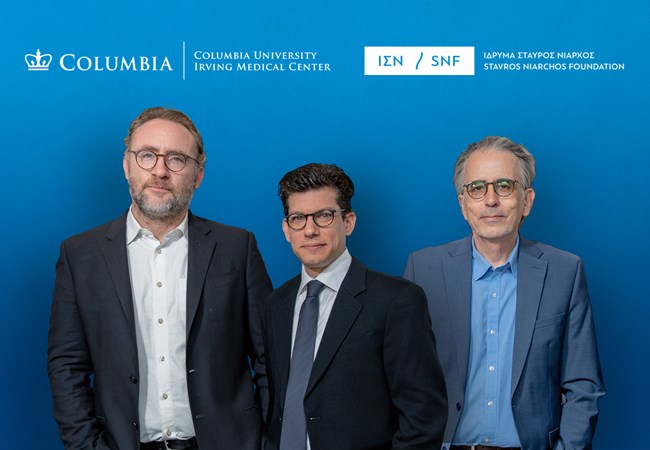 SNF Center for Precision Psychiatry & Mental Health co-directors (from left) Sander Markx, Steven A. Kushner, and Joseph Gogos
Columbia University today announced the establishment of the Stavros Niarchos Foundation (SNF) Center for Precision Psychiatry & Mental Health at Columbia University. The center will catalyze the scientific innovation and clinical implementation of precision medicine to advance the prevention, diagnosis, and treatment of mental illness. The center is being established with a $75 million grant from the Stavros Niarchos Foundation (SNF), an international philanthropic organization, as part of SNF's Global Health Initiative (GHI).
The SNF Center is a joint effort of the Department of Psychiatry at Columbia University Vagelos College of Physicians and Surgeons and Columbia's Zuckerman Mind Brain Behavior Institute. It will be embedded within Columbia University's unique ecosystem of research and clinical services and will draw upon expertise from the Columbia-affiliated New York Genome Center and the New York State Office of Mental Health.
The increasing sophistication of precision medicine is allowing scientists and health care providers to integrate each person's unique genomic, physiologic, and health profiles to create optimized prevention and treatment strategies. Columbia University has been at the forefront of recent efforts to elucidate the genetic and biological changes that cause many major mental illnesses. The SNF Center for Precision Psychiatry & Mental Health will build upon and expand this knowledge by accumulating massive datasets of genomic sequences and longitudinal medical records. At the same time, by harnessing interdisciplinary expertise from biologists to clinicians, the center will enable the rapid advent, from bench to bedside, of new therapeutic and prevention approaches based upon defined etiologies shared by distinct subgroups of patients.
"The insights provided by genomics and precision medicine are proving of tremendous value in improving people's health and lives," said Columbia University President Lee C. Bollinger. "Through this new center, our researchers will meet an urgent human need by harnessing precision medicine to promote mental health for all. We are enormously grateful to the Stavros Niarchos Foundation for joining with Columbia in meeting this profound scientific and humanitarian challenge."
"The significant progress we have made in caring for our physical health in recent decades is apparent, but just as clear is the fact that we have left behind our mental health," said SNF Co-President Andreas Dracopoulos. "All of us at SNF are proud to support the doctors, scientists, and mental health professionals at Columbia in bringing together deep expertise with an equally deep sense of humanity to address one of the most critical issues of our time."
The collaboration between Columbia and SNF arose from a joint vision for helping to reduce the individual and societal toll of mental illness and to combat social inequality, stigma, and discrimination in mental health care. The ecosystem of knowledge and practice at Columbia University brings together research and clinical services and connects the public and private sectors. By driving innovation in mental health research and sharing advances as widely as possible, Columbia and SNF will work to help ensure that improved treatments are equally available to everyone.
"Many existing treatments in psychiatry do not get at root causes," said Katrina Armstrong, MD, Chief Executive Officer of Columbia University Irving Medical Center and Dean of the Faculties of Health Sciences and the Vagelos College of Physicians and Surgeons. "We welcome this opportunity to develop new approaches that focus on disease mechanisms and target treatment based on an individual's unique genetic makeup and biology for the ultimate benefit of lifting up care for the community at large."
Among the major projects of the SNF Center is the Genomic Medicine for Mental Health Advancement (GeMMA) initiative, being conducted in close collaboration with the New York Genome Center (NYGC). Tom Maniatis, PhD, Evnin Family Scientific Director and CEO of the NYGC and Isidore Edelman Professor of Biochemistry and Molecular Biophysics at Columbia said, "The GeMMA initiative will not only provide essential information for individual patients, it will also build upon and expand pioneering work at Columbia University central to establishing 'causal' relationships between genetic variation and brain function, which is a critical step in the development of new approaches to diagnosis, treatment, and prevention of mental illness."
The New York State Office of Mental Health (OMH) is a major partner of the SNF Center with a renowned reputation as one of the largest and most innovative learning public mental healthcare systems in the nation. OMH Commissioner Ann Sullivan, MD said, "The Stavros Niarchos Foundation Center for Precision Psychiatry & Mental Health ushers in an entirely new era of mental health care through the unprecedented potential for integration of Precision Psychiatry into standard clinical practice. OMH is proud to partner with Columbia University on this transformative mission, and we are deeply grateful to SNF for their remarkable commitment to improving mental health worldwide."
The center will be co-directed by Sander Markx, MD, assistant professor of Clinical Psychiatry at Vagelos College of Physicians and Surgeons (VP&S) and director of the Center for Precision Neuropsychiatry at the New York State Psychiatric Institute; Steven A. Kushner, MD, PhD, professor of Psychiatry at VP&S and a principal investigator at the New York State Psychiatric Institute; and Joseph Gogos, MD, PhD, professor of Physiology & Cellular Biophysics, Neuroscience, and Psychiatry at VP&S and a principal investigator at the Zuckerman Mind Brain Behavior Institute, who together conveyed their collective vision for the center: "With this extraordinary support from SNF, we are poised to build on the accelerating progress in psychiatric genomics, neuroscience, artificial intelligence, and stem cell biology to revolutionize the treatment of mental illness. Through this new understanding, we are fundamentally committed to helping combat stigma and discrimination against people living with mental illness and realizing improved mental healthcare for all."