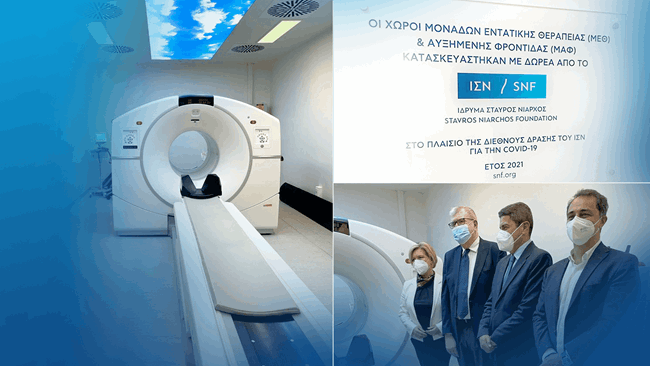 On Monday, April 3, the new Nuclear Medicine Laboratory at the University General Hospital of Heraklion was inaugurated in the presence of Deputy Minister Mina Gaga, Archbishop Eugenios of Crete, Deputy Minister of Culture and Sports Lefteris Avgenakis, European Parliament Member Manolis Kefalogiannis, Heraklion Parliament Member Maximos Senetakis, Governor of the 7th Regional Hospital Nektarios Papavassiliou, Governor of the University General Hospital of Heraklion (U.G.H.H.) George Chalkiadakis, doctors, nurses, and representatives from the Stavros Niarchos Foundation (SNF).
These new facilities are the outcome of two different SNF grants to the U.G.H.H. The first, for the renovation of the hospital's ICU and HDU areas, is part of SNF's global COVID-19 relief initiative, which includes similar renovations at 15 hospitals across Greece to add 175 ICU and HDU beds in the country, as well as a five-year training program for ICU staff. The grant for these renovations was completed in 2021.
The second grant includes the supply and installation of a PET-CT (positron emission tomography–computed tomography) scanner, as well as the infrastructure work necessary to reconfigure the hospital laboratory, as part of SNF's $750 million-plus Global Health Initiative (GHI).
The PET-CT equipment was delivered in the fall of 2022 and preliminary inspections, equipment testing, and training for the hospital's medical staff are currently wrapping up. The Greek state has undertaken responsibility for staffing the laboratories, the operation of the equipment, and the maintenance costs after the two-year warranty period. Since the beginning of the grant, the implementation of the project has been carried out in close cooperation between SNF and the hospital.
Inauguration of new PET-CT scanners at the University Hospital of Larissa will follow the recent inaugurations at the University Hospitals of Alexandroupoli, Ioannina, and Heraklion shortly.