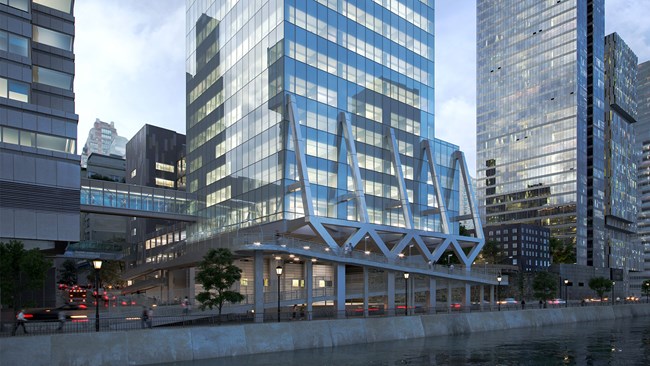 Building on a nearly two-decade partnership with the Hospital for Special Surgery (HSS), the Stavros Niarchos Foundation (SNF) is helping the world-leading orthopedics institution expand and modernize its facilities.
A new grant from SNF will support the construction of the new Anna-Maria and Stephen Kellen Tower, which will house HSS joint replacement and spine care services. Part of a larger transformation of its campus, the creation of the new Kellen Tower will help HSS better serve patients' musculoskeletal health needs and advance research that aims to raise the standard of care available to all.
"Every single person should have access to expert medical care, and visionary leaders like Tom Sculco and everyone at HSS are essential to this collective effort," said SNF Co-President Andreas Dracopoulos. "Construction of the Kellen Tower is a milestone for HSS, but in truth the Hospital never stops building—skills among early-career surgeons, international pathways of knowledge exchange, new approaches to treatment and new frameworks for delivering the best care possible. We are proud to support HSS in its commitment to excellence in improving health for all."
HSS performs more than 38,400 surgical procedures each year and has made education a core component of its mission, reaching tens of thousands of medical professionals in scores of countries. The HSS-Stavros Niarchos Foundation Orthopedic Seminar Program, for instance, formed a long-term bridge of knowledge exchange between Greece and New York, with surgeons honing new skills through case presentations and hands-on practice at HSS to improve the care they deliver back home. More than 160 orthopedic surgeons from Greece have trained at HSS through this ongoing partnership.
The new 12-story, 94,000-square-foot Kellen Tower will be located on the east side of Manhattan atop the bustling FDR drive, and will include an imaging center, examination rooms, inpatient facilities, and space for collaborative academic training to take place. It will also become the new home of the SNF Complex Joint Reconstruction Center (CJRC), which deals with the most challenging cases in the already demanding field of joint replacement, centralizing HSS's world-class resources to create a one-stop shop that improves patient outcomes.
"We are profoundly grateful to SNF and Andreas Dracopoulos for their longstanding and extraordinary friendship, leadership, and generosity over the past 20 years," said Thomas P. Sculco, MD, HSS Surgeon-in-Chief Emeritus and Director of the SNF CJRC. "From establishing training programs that immerse visiting surgeons from Greece in our clinical and research programs to naming the first center in the world dedicated to care of patients with complex joint conditions and revision surgery, SNF has been a catalyst for improving musculoskeletal care globally. This new commitment will allow HSS to care for more people and centralize resources for patients with the most complex needs."
"SNF has been a powerful and vital partner across our clinical, research, and education efforts," said Robert K. Steel, Co-Chair of the HSS Board of Trustees. "Their support of the Kellen Tower is helping to build the HSS of the future for patients counting on us now and for generations to come."
The Kellen Tower is expected to open and begin serving patients in 2025. A Digital Inpatient Experience spanning three floors of the new building, including patient rooms equipped with state-of-the-art technology for optimal care and recovery, will be named for SNF.